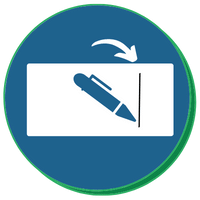 Make sure to draw a line below your signature if using mobile deposit.
We Pay via e-check.
Sellers are paid via Deluxe e-check the week after the sale.  You will receive an email with a secure link to print your check and deposit it.  Make sure the email you use for registration is an active email that you have access to.

Your check expires in 180 days. There will be a $15 fee if we have to re-issue your expired check.
You will be notified by email when checks have been sent out.

Can't Find Your Check??

The subject of the email said: Here's your check from Grateful Village, LLC for $xxx. The email came directly from

 

echecks.com

 

(

app@echecks.com

). Try searching your email or checking the spam folder.

All you have to do is click on the secure link (no need to create an account) and print your check on regular paper – then deposit as you would normally. If you plan to take it to the bank, leave the check attached to the original paper in case the teller is unfamiliar with echecks. All the instructions are on the sheet and there is contact information for deluxe checks if they have questions. If you want to use mobile deposit (which we both use and haven't had any issues), simply sign your name and write "For Mobile Deposit Only" on one end. If you get an error – you can draw a straight line on the back of the check to create the "endorse here" space and endorse as usual above the line (with your signature and the words "For Mobile Deposit Only")  – apparently some bank's mobile check software require the line on the back to accept images.   To be clear, checks are not required to have this preprinted on the back for validity, security or processing.
If you cannot find the email – no worries – you can access your payment by going to https://my.echecks.com/login/deluxe and setting up a free account using the email address used to create your consignor account and create a password.
If you have any questions you can call them at: 877-333-6964. They are very helpful and can walk you through the process or answer any questions you may have. Creating an account will be handy for accessing your checks in the future, too.
Why e-Checks?
We are working hard to reduce our collective environmental footprint.
These checks cost the same for us to issue- but we no longer have to purchase and print expensive corporate checks, window envelopes, physical stamps, and spend hours to process thousands of checks with the potential for human error of double stuffing two checks together, and we don't have to use all the fossil fuels to get all of the supplies shipped to us and then to you.
These checks reduce lost and stolen checks in the mail – which, sadly, has been a real problem – leading to considerable stress and financial cost to remedy.
As everyone has access to a printer to print their consignor tags, all it takes is one low quality piece of paper and many banks allow you to even mobile deposit that check- no driving required!
We can pay you MUCH FASTER (after handling all of the consignor issues and reconciling who worked and paid less commission.)
Most of our consignors are super pleased and quickly received and deposited their earnings after the email was sent. We had over 500 eChecks cashed or deposited within the first 3 days of issuing the eChecks our first season using them!